30-31th of October 2019 International Scientific and Technical Conference "Ecology in power generation"
30-31th of October 2019 International Scientific and Technical Conference "Ecology in power generation"
03.06.2019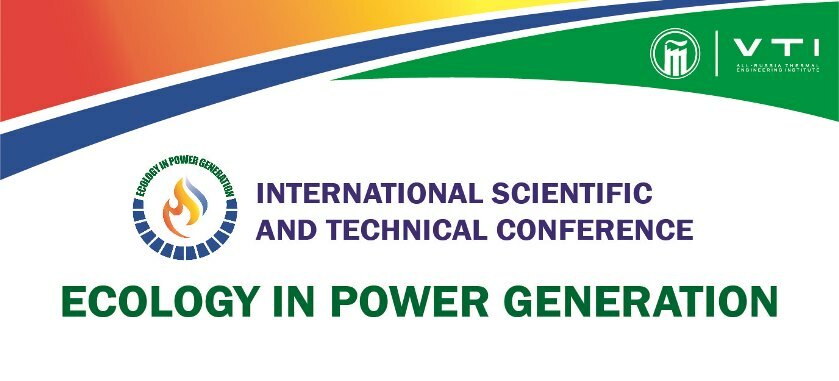 Organized by
JSC «VTI» as national Russian center of fundamental and applied science in thermal engineering. It is a basic playground of meeting and view exchanging with various kinds of specialists of power industry.
About the Conference
Harmonization of the Russian environmental protection legal space with EU legislation will create conditions for the conversion of Russian standards of specific emissions of harmful substances into the atmosphere to the level of modern European standards, which will stimulate the need to equip the TPPs with flue gas cleaning installations for particulate matter, nitrogen oxides, sulfur oxides and other components, which will allow to achieve specific emission standards and significantly reduce gross emissions of pollutants from TPP.
In 2018 was issued Presidential Decree No. 204 about national strategy for the development of the Russian Federation for the period up to 2024, which include projects in environmental policy. One of the goals is to drastic reduction in the level of contamination of air pollution in large industrial centers by no less than 20% of total emissions. Order No. 154 was approved a list of objects that have a negative impact on the environment, belonging to the 1st category, whose contribution to total emissions and pollutant discharges is at least 60% in the Russian Federation.
In 2019 the Ministry of Natural Resources and Ecology of the Russian Federation developed the national project "Ecology", which included few federal projects - "Implementing the best available technologies", "Clean Air", "Clean Country", "Clean Water".
In this regard, the main point of the conference is about the preparation of TPPs in Russian Federation for a phased transition to more stringent European standards is highly relevant.
Focus Topics
Environmental legislation: current and future requirements in Russian Federation and other countries.
Actual problems in the performing the environmental activities at TPP: developing of environmental documentation, permissions obtaining, etc.
Experience of implementation and operation of gas treatment facilities.
Technologies of harmful compounds removal from flue gas: dust particles, nitrogen oxides, sulfur oxides and other acid compounds.
Technological methods of emission reduction.
Ash removal: problems and solutions.
Carbon dioxide capture and storage: methods and their implementation.
Protection of the aquatic environment: water consumption and disposal.
Programm
Scientific and technical reports and presentations
Round table: "Creation of capacities of ecological engineering for production providing transfer of domestic power to the principles of the Best available technologies for implementation of requirements of The national project "Ecology".
Small exhibition space
Evening reception
Why to Attend
Unique, specialised forum in energy industry
Experience of leading international and Russians scientific-technological experts
Discussions of the most actual and urgent problems
Networking Opportunities
Advanced researches, personal experience and mature solutions
Real picture of Russian energy industry
Conditions of standard participation
SPEAKER - 21 600 RUB
Include:
1.Two-day Conference participation
2.Speech with a non-commercial report (about 20 minutes)
3.Placement of the report in the Compilation of reports (ISBN)
* (Conference Organizing Committee reserves the right to select reports)
4.Information placement in the Conference program:
About the speaker (photo, full name, position, brief prof. Biography)
About the participating organization (logo, contacts)
Placement of the presentation to the report on the information resources of the organizer
Participant Package (Conference Program, handouts)
Meals for 2 days (coffee breaks, lunches, evening reception)
DELEGATE - 21 600 RUB
Include:
1.Two-day Conference participation
2.Information placement about the participating organization (logo, contacts) in the Conference program
3.Participant Package (Conference Program, handouts)
4.The possibility of obtaining an electronic Collection of reports (ISBN)
5.Meals for 2 days (coffee breaks, lunches, evening reception)
*ADDITIONAL OPPORTUNITIES and PARTICIPATION OPTIONS upon request to e-mail seminar@vti.ru
Target audience of VTI's events
More than 97 % of participants:
Power producers, Power supply companies
Chief engineers, heads of departments and laboratories, leading experts of TPP
Representatives of federal and regional authorities, regulatory agencies in the field of Power
Representatives of Russian and international manufacturers of equipment, engineering companies
Experts, managers and specialists of Innovation Centers
Academicians, heads of universities and research institutes
Dates and registration
DATES:

October 30 – 31th , 2019

DEADLINES:

• for participation as a speaker - until October 18th ;

• for participation as a delegate - until October 25th ;

• reception of full texts of reports - until October 18th .

REGISTRATION FORM:

Please, send two Registration forms in MS Word and PDF with signature to seminar@vti.ru

ADDRESS:

14 Avtozavodskaya Str., Moscow, Russian Federation
Contacts
FOR PARTICIPANTS
phone: + 7 (495) 137-77-70 (ext. 1540)
e-mail: seminar@vti.ru